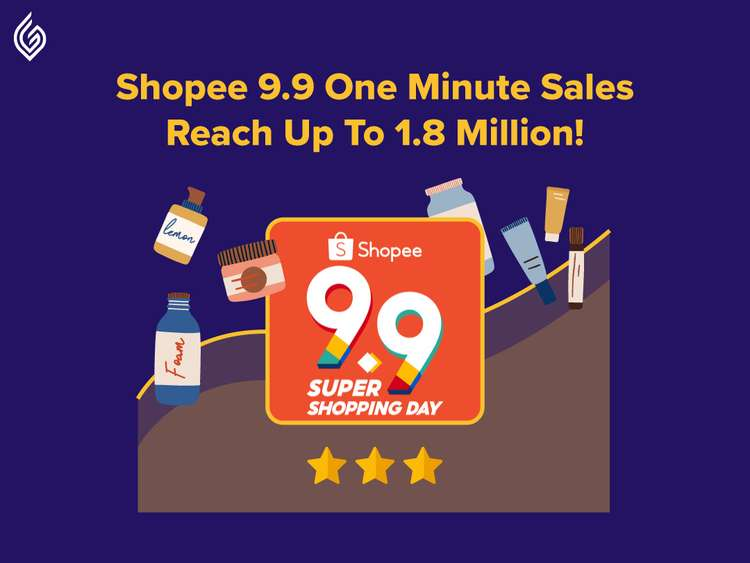 Taiwan and Southeast Asia's leading e-commerce service, Shopee. This year's greatest shopping event, the "Shopee 9.9 Super Shopping Day," marked the beginning of the team's triumph. 1.8 million things were sold in the region in 60 seconds. from the beginning of the 9th of September, 2021
One of the most awaited Shopping Festivals was a huge success. The 9.9 Super Shopping Festival was officially launched at midnight on September 9th. Shopee recently released new figures on the 9.9 Super Shopping Festival: A spike in online buying among Southeast Asian consumers was spurred by the "Late Night Snatching" episode. A two-hour sale racked up 1.8 million purchases in a minute. 
What is the 9.9 Super Shopping Sale?
For the first time in 2016, Shopee launched the inaugural 9.9 Super Shopping Day, and it symbolizes the beginning of the year-end holiday sales in the region. 90% of consumers in the region look for awareness to make smarter purchasing decisions, according to a poll by Shopee. Online customers are also drawn to the year-end holiday shopping seasons, with 43% of shoppers having never purchased anything online prior to the start of these seasons.
From 2016 through September 9, 2021, Shopee has organized discounts and games to make shopping easy, satisfying, and exciting. Entertainers are appearing as part of Shopee Prizes, and customers can find the best offers on Shopee.
This year at Shopee's annual sale, Jackie Chan, a worldwide celebrity and kung fu idol, has been ventured in to participate. Users in Singapore, Malaysia, Thailand, Indonesia, the Philippines, and Brazil must have seen him on Shopee live, and they got to enjoy Jacki Chan-themed Shopee games and more just at this year's 9.9. Super Shopping Festival. 
Do You Want to Manage Multiple Marketplace Just by Single Person?
Of course you can! You can handle multiple stores from all marketplace just by single dashboard. Cut your Business's cost, and Boost your Efficiency at the same time.
What Did People Buy Most?
According to a report 2 hours after the sale, China's cross-border peak includes popular categories like homewares, fashion accessories, beauty care, and technology. The plight of the pandemic has led to a significant increase in interest for home and personal products. People buy a wide variety of things, from staples to electronic gizmos.
During the first eight hours of 9.9, face masks were the top-selling item, seconded by cellular phones and sneakers. This shows the great demand for essentials like masks during the pandemic as well as the interest for electronic products especially now that we are doing work and school from home. 
Among the top-selling items have been 3D wall stickers, ornamental flower arrangements, art cutlery, hand-book stickers, cross-stitch strings, and other cross-border merchandise.  In multiple countries, you may find a wide variety of cross-border merchandise, including cameras, gaming electronics and gadgets, and e-sports seats, etc.
Your Selling Stock is Messing Up? You Need Help!
Ginee Omnichannel allow you to automatically sync every stock from all of your online stores. It's faster way to helps you profit!
What is Shopee's Goal Now?
Shopee's main company, Sea, is going to sell shares and bonds to generate 6.3 billion US dollars, as per international news accounts. The greatest funding in the history of e-commerce in Southeast Asia will occur now, with Sea and Shopee. In a company statement, Sea announced that it will offer 11 million worth of shares and $2.5 billion in preferred stock.
The video game "Free Fire" and the Shopee ecommerce app boosted Sea's market dominance in the e-commerce and entertainment industries during the outbreak. As Sea's share price skyrocketed, Li Xiaodong, the company's founder, rose to become Singapore's wealthiest man in August.
The Bloomberg data show that this deal, which includes convertible bonds, will become the biggest financial leverage since the T-Mobile America deal in June 2020. Renowned banks in America provided the transaction to happen.
It is known that Sea issued 2.6 billion stocks last December and earned $1.35 billion in funding in 2019. In addition to allocating the current sum to overall company objectives, including prospective capital partnerships and mergers, Sea stated that it will use the money for business expansion.
Plan Your Next Shopee Mega Sale with Ginee
Ginee is an e-commerce tool widely available across Southeast Asia. It is a platform that allows merchants to manage their orders, stocks, and data in one dashboard. In your next Shopee Mega Sale, you will be better prepared with Ginee by your side. Big sales require big stocks in order to get big orders. These things can be overwhelming for merchants, especially the new ones. This is why the smart way to prepare is through Ginee.
The dashboard in Ginee gives you the feature of order management. This will allow you to manage bulk orders efficiently not just in one store, but many more. The Order Management feature allows you to manage orders from all marketplaces from taking orders, arranging shipments, printing labels, tracking shipments, to customers receiving orders through Ginee. 
The order management feature gives you the benefits to fastly process customer orders, easily send orders to loyal customers, check orders from all marketplaces in one system,  print shipping labels in bulk from multiple marketplaces at once, and lastly, to track order deliveries all in one go. Along with this, you can also manage your stocks and inventory as they go.
Shopee Mega Sales and other shopping festivals can be quite daunting which is why you should utilize all the help that you can. When the mega sale orders come flooding at your store, you would want to let the stocks keep up to date and make sure that your inventory is still accurate not just for you but your customers too. Ginee Omnichannel gives you all of these benefits in one place. Convenient, easy, efficient, and helpful. 
Upload Products to Shopee and Lazada

Automatically

! How?
Ginee product management allow you upload products to all of your online stores from all marketplace just once! Save time, save cost, save energy, join Ginee Now!